Friday, March 21, 2008
Film Screening: Maqbool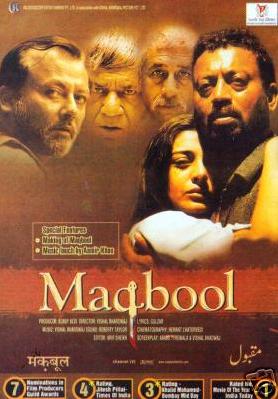 Sunday March 30, 2008
Film Screening: Maqbool 4pm | 132 Minutes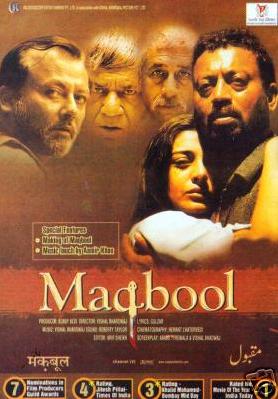 Released in 2004, this is one of the most badass Bollywood film's I have ever seen. The film is intelligently shot, and gives us a rare glimpse into the underbelly of Mumbai's mafia world. Irrfan Khan (The Namesake, Darjeeling Limited) delivers a haunted and compelling rendition of Maqbool, the Indian version of Macbeth. This film is a must see.
Based on William Shakespeare's play 'Macbeth', this story revolves around Maqbool (Irrfan), Abbaji (Pankaj Kapoor) and Nimmi (Tabu). Three characters that could have been in any walk of life, in any city in the world, and in any point in time. Right now, they have chosen to be in the underworld of 21st century Mumbai. Maqbool is the second-in-command of a gang led by Abbaji, an ageing underworld don. Abbaji is respected by his faithful left-hand Kaka and everyone else in the gang. But it is love that betrays Abbaji. Nimmi, his young mistress, finds the majestic Maqbool more charming and decides to use the ambitious gangster to get rid of her paramour. But it's her guilt that she can't get rid of. And carries it around for the rest of the film, as much as the baby she's now carrying in her womb. Of course, the course of action is correctly predicted periodically by the two police officers- Inspectors Pandit and Purohit. They abet Maqbool's gang and remind us of the two witches from 'Macbeth'. Commentators, observers, and soothsayers. But perhaps, even they cannot predict the consequences of this dangerous love where there is only one rule: "Fair is foul and foul is Fair".
Keep up with Machine Project
Sign up to stay informed about Machine Project!