Thursday, February 12, 2009
Event production intern needed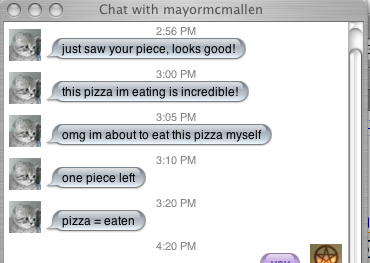 Hi there. We're looking for someone nice who would like to help us with events. This is an unpaid three month position running from March to June, with occasional free lunch.
The Production Intern will:
– help co-ordinate with the artists and performers who are doing events at Machine
– update the Machine Project website, www.m.loc/engine with information about the aforementioned events
– set up the gallery before the event happens
– ensure events are videotaped and documented.
Requirements:
– Responsible, punctual, flexible.
– You should enjoy coming to events at Machine (and have come to at least a few in the past).
– Possession of a car helps, so does living near Machine.
– experience with HTML and building webpages is very helpful but not required
If you're interested, email machine@machineproject.com explaining your interest in the position.
–
–
–