Tuesday, March 30, 2010
Machine Project Spring Internship 2010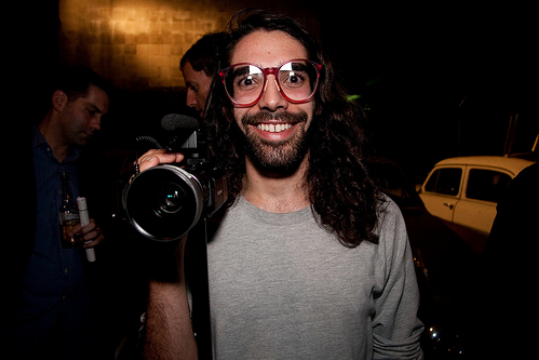 A 10-week internship, early January to late March, 2010.
Machine Project is looking for a part-time video intern this spring!
We're looking for someone who is interested in videotaping events/editing video for a small + feisty non-profit arts and educational space. It will help immensely if you're already familiar with Machine and have attended events here in the past. You will also need a car.
REQUIREMENTS:
– Must know Final Cut Pro, DVD Pro, and Compressor
Additionally, a Machine Project intern should:
– Be able to work a flexible schedule. Most of our events happen on weekends or evenings — so you must be available to work on most weekends and evenings
-Log and capture all footage at Machine Project.
-Edit all footage at Machine Project
– Have access to a car. The video intern will be videotaping events at Machine Project and the Hammer Museum
– Be responsible and punctual
?- Enjoy coming to events at Machine (and have come to at least a few in the past).
Spring Intern Duties:
The intern will report to Machine Project in Echo Park on a part-time schedule, and work side-by-side with staff in Machine's office, gallery, and classroom. A video editing workstation with an Apple computer and mini-dv tape deck will be provided. Video interns will videotape events, edit footage, burn a copy of the event to DVD, and upload footage to our Vimeo page. A Sony HD Handy Cam (equipped with a camera mount mic and wide angle lens) and tripod will be provided. The video intern will work hands-on with artists and staff to coordinate the logistics of documenting Machine Project's events. This includes coordinating with artists and presenters to determine their needs, cleaning and prepping the space, determining any audio/visual requirements for each event and setting up and testing them beforehand.
– Frequently update the Machine Project Vimeo website (http://www.vimeo.com/machineproject) with the final edit of documented events.
– Ensure events are videotaped, edited, and uploaded to Vimeo
– Use Final Cut Pro to edit, and log and capture footage
– Use DVD Pro to burn final edit to DVD
– Use Compressor to compress video file for Vimeo upload
– Fill in as production support in various roles as needed
– Provide general support to the Executive Director and Operations Manager in daily tasks.
HOW TO APPLY:
If you're interested and eligible, email a cover letter and your resume (mandatory) and a link to your recent favorite YouTube clip (optional) to machine@machineproject.com ASAP.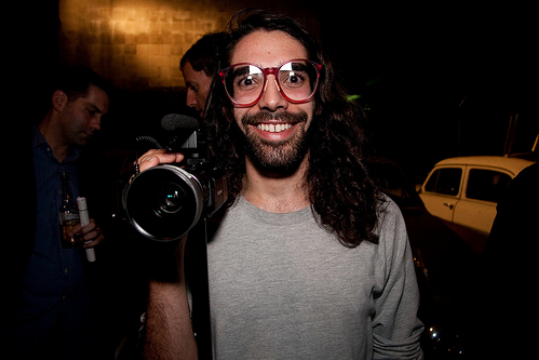 Happy former Machine Project intern, Justin, documenting the Machine Project Benefit