Monday, July 3, 2006
MIDI Scrapyard Challenge Workshop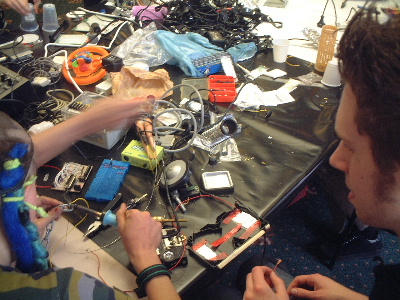 Registration is closed, we had a flood of people, sorry. Join us at 7pm for the performance
The MIDI Scrapyard Challenge Workshop
Workshop Sunday 10am to 6pm (lunch break 12-1)
Performance 7pm
http://www.scrapyardchallenge.com
Description
The MIDI Scrapyard Challenge Workshop is an intensive, one-day workshop in which participants build simple controllers using reclaimed, defunct materials such as old electronic equipment, furniture, old computer components, electric appliances, turntables, monitors, gadgets and clothing. Each of the objects designed during the workshop is connected to a MIDI output device that will create sound. At the end of the day the participants will give a short performance / demonstration, playing their new creations to the rest of the group and public.
Open and Collaborative Workspace
The Scrapyard Challenge Workshops are built on the premise of encouraging an open and collaborative space for creative ideas and hands-on prototyping. Workshop attendees learn how to build simple instruments from found and/or discarded objects. We encourage attendance from visitors from multiple backgrounds and all skill levels. Hands-on prototyping involves taking an idea or concept and turning it into a working model, using it to test scenarios for its possible use. This method is increasingly being employed in design processes to integrate user feedback in the development process, but it can also be used as a tool for supporting creative processes.
Participants
We are looking for an interdisciplinary mix of students, artists, designers, musicians, performers, new media developers and people involved in various other ways in creative processes. The workshop brings together participants from a variety of backgrounds and fields of knowledge. Participants do not need to have any knowledge of or experience with electronics or technology to take part.
Registration
Registration is full. Please join us at 7pm for the performance.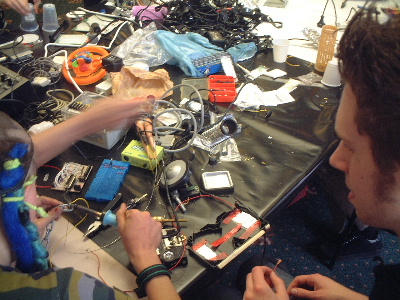 Workshop Leaders
Jonah Brucker-Cohen is a researcher, artist, Ph.D. candidate, and HEA MMRP fellow in the Disruptive Design Team of the Networking and Telecommunications Research Group (NTRG), Trinity College Dublin. He was also a Research Fellow in the Human Connectedness Group at Media Lab Europe. He received a Masters from the Interactive Telecommunications Program at NYU and was an Interval Research Fellow there creating interactive networked projects. His work and thesis focuses on the theme of "Deconstructing Networks" which includes projects that attempt to critically challenge and subvert accepted perceptions of network interaction and experience. URL: www.coin-operated.com/
Katherine Moriwaki is an artist and researcher investigating clothing and accessories as the active conduit through which people create network relationships in public space. After receiving her Masters degree from the Interactive Telecommunications Program at New York University's Tisch School of the Arts, Katherine co-developed and taught the groundbreaking collaboration studio "Fashionable Technology" at Parson's School of Design. Currently she is a
Ph.D. Candidate in the Networks and Telecommunications Research Group at Trinity College Dublin. URL: www.kakirine.com