Monday, April 14, 2008
Giant Joystick!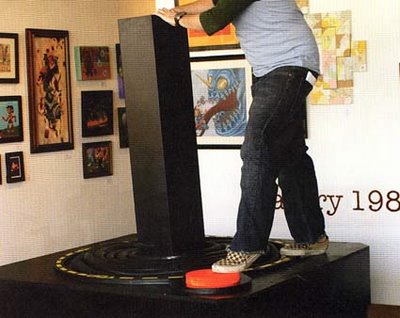 Thursday April 17, 2008
8pm-11pm
FREE!
Have you seen King of Kong, that documentary about extreme videogame nuts who battle over the title of World Donkey Kong Champion? If not, you're in luck — our neighbors at the Echo Park Film Center are screening it this Thursday night.
Have you ever come out from a screening about crazy videogamers and thought that you yourself could probably pwn both those guys, if only you had a shot? This is the luckiest night of your life.
While the screening is going on next door, we'll be giving you the chance to start your own overblown gaming rivalry! This Thursday night from 8pm-11pm, come by Machine Project and play Donkey Kong and other classic games on a oversized 15x scale Atari joystick, built by our friend Jason Torchinsky. The aforementioned joystick is taller than your mom (true for all moms under 5′).