Wednesday, March 19, 2008
Henna Workshop with Saroj Sukhadia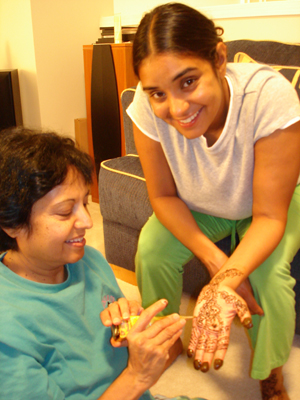 Sunday March 23, 2008
Henna Workshop with Saroj Sukhadia 11am – 1pm
On Sunday, March 23, 2008 at Machine Project, Saroj Sukhadia will teach the art of henna tattoo. Learn the history of henna, different Henna patterns, and learn to be a Henna artist yourself. Participants will be taught how to prepare henna for skin application as well as the technique for design. $20 workshop fee covers all materials and tuition.
Workshop begins at 11am and will end at 1pm.
Non-members $20
Members $15
"Henna, Lawsonia inermis, produces a red-orange dye molecule, lawsone. This molecule has an affinity for bonding with protein, and thus has been used to dye skin, hair, fingernails, leather, silk and wool. The dye molecule, lawsone, is primarily concentrated in the leaves, and is in the highest levels in the petioles of the leaf. Products sold as "black henna" or "neutral henna" are not made from henna, but may be derived from indigo (in the plant Indigofera tinctoria) or Cassia obovata, and may contain unlisted dyes and chemicals.[3] Henna is commercially cultivated in western India, Pakistan, Morocco, Yemen, Iran, Sudan and Libya. Presently the Pali district of Rajasthan is the most heavily cultivated henna production area in India, with over 100 henna processors operating in Sojat City. Though henna has been used for body art and hair dye since the Bronze Age, henna has had a recent renaissance in body art due to improvements in cultivation, processing, and the diasporas of people from traditional henna using regions."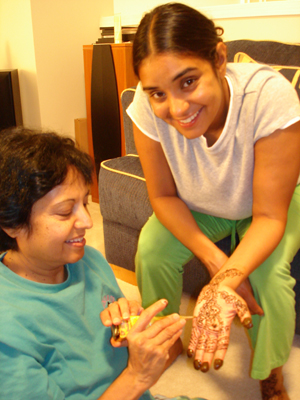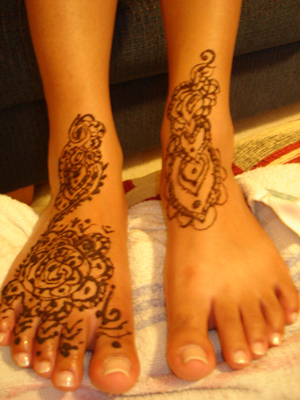 Saroj Sukhadia has been practicing Henna design since she was a little girl in Nadiad, Gujarat, India. She studied fine arts at Nadiad College and has done Henna art privately for the past 5 years. She currently studies oil and acrylic painting in Greensboro, North Carolina.