Tuesday, June 17, 2008
"How Not to Be Seen": Ghillie Suit Workshop & Camouflage Performance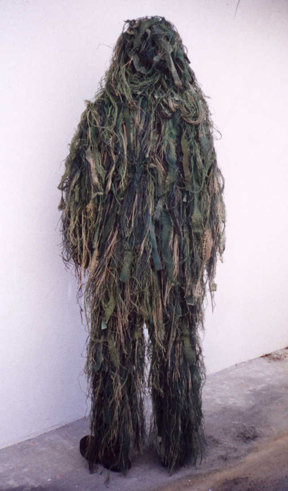 Saturday, July 5th, 2008
All day event!
————-
WORKSHOP: Ghillie Suit Construction
2pm – 5pm, Saturday July 5th
Members $45
Non-members $50src="https://www.paypal.com/en_US/i/scr/pixel.gif" width="1″ height="1″>
Ghillie suits are a type of camouflage clothing designed to resemble heavy foliage. In our "How Not to Be Seen" Ghillie Suit Construction workshop, students will build their own ghillie suits at Machine Project. Materials will be provided, though if you already have foliage you'd like to work with, please let us know!
Maximum 12 students. Enroll now!
————-
PERFORMANCE: Camouflage Kinesthetics
5pm – night, Saturday July 5th
In this collaborative performance event, we will talk and think critically about self-concealment, move our bodies and fashion our forms so as to maximize possibilities for environmental immersion – all in relation to real or imagined video surveillance devices. Students from that afternoon's ghillie suit construction workshop are invited to stay and use their new suits during this performance.