Monday, March 10, 2008
Robin Sukhadia starts residency, ridiculous amounts of drumming in our future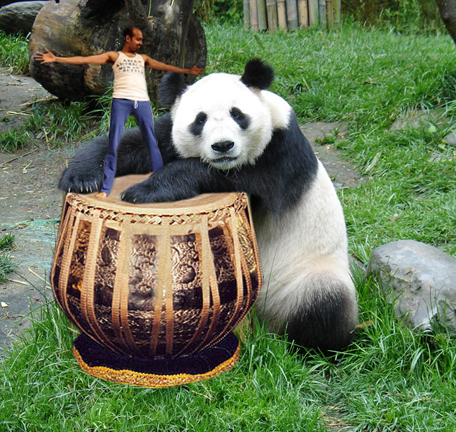 Please join us in welcoming our friend and new Artist in Residence, Robin Sukhadia, to Machine Project!
Over the next month, Robin will be teaching tabla, presenting films and concerts by visiting artists and musicians, hosting listening sessions and special presentations, and organizing workshops on everything from henna, to traditional Indian cooking, to instrument-making.
Tabla classes start this Thursday, March 13th at 5pm and are only $5 per session — you can email machine@machineproject.com to RSVP. Details here.
Also this week:
Tablacentric's kick-off event is a special performance + demonstration by musical group Delhi2Dublin on Friday, March 14th at 7pm. They've collaborated with Irish and Indian dancers and the National Circus School of Canada, and play music featuring an electric sitar, fiddle, dhol, guitar and of course, tabla. Free.
On Saturday, March 15th at 2pm there will be an afternoon performance by David Trasoff and Leonice Shinneman. Highlighting afternoon ragas on the Sarode (the traditional north Indian fretless lute), their performance will include a discussion on the evolution and development of raga. Also free.