Monday, March 10, 2008
Tabla Classes: Beginner + Intermediate
Part of Robin Sukhadia's TABLACENTRIC month at Machine Project!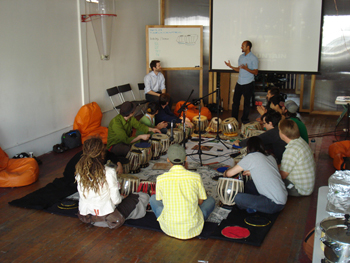 Come explore culture, sound design, creativity and rhythm through the language and notes of tabla, the traditional drums of north India. Robin Sukhadia, disciple of Pandit Swapan Chaudhuri, leads focused classes on learning and applying the rhythmic language behind tabla. Drums are available for learning and practice within the gallery. Learn correct posture, finger positioning, recitation, tala (cycles of times), and composition (kaidas, tuchras, mukras, thekas, tee hai, and more). Students of all levels encouraged to participate, especially complete beginners.
Classes are offered every Tuesday and Thursday between 5 – 7:30 PM in 1 hour segments according to skill level. $5. Classes will begin March 13, 2008 and end on April 15, 2008.
Classes will often feature guest artists and demonstrations. Check www.m.loc/engine/tablacentric for more details. Please RSVP via email to machine@machineproject.com, or call Machine at 213.483.8761 to reserve a spot.