Monday, October 5, 2009
Machine Project Benefit Nov 7th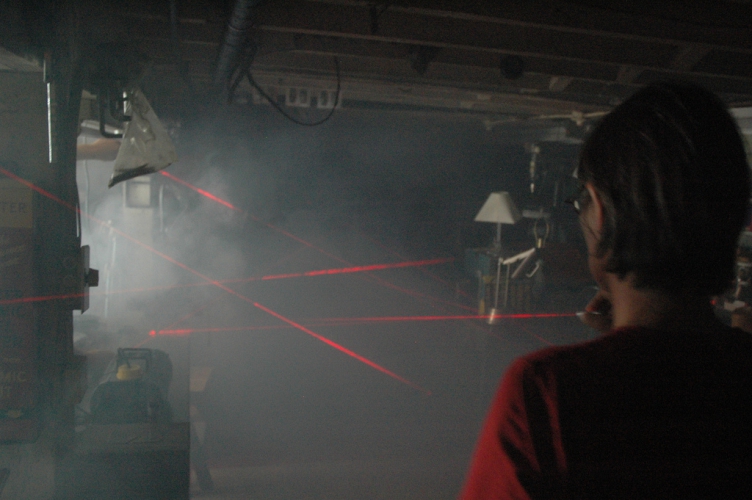 Machine Project invites you to a benefit event on Saturday Nov 7th at a special location – Mister Jalopy's secret lair, accessible only through a hidden entrance behind Coco's Variety Store on Riverside Drive.
Step behind the curtain into a place only a few brave souls have had the opportunity to enter. You'll find a labyrinthine cabinet of curiosities waiting for you, stuffed to the brim with the discarded wonders of yesteryear, all organized with the maniacal glee and exactitude of a deranged registrar. Step back into an earlier, can-do time; an inventor's paradise! The evening, hidden from the normal, boring world, is full of exclusive entertainment created by Machine Project just for the occasion.
With an entrance ticket you can join us for:
Panning for gold. You may keep any gold flakes, nuggets, chunks or dust you find. Presence of (some) gold guaranteed.
Competitive Art Heisting. Compete for the best time in outmaneuvering a laser beam security system.
Slime mold racing. Wager real money on the growth rate of various micro-organisms.
Speed soldering. Go head to head vs. other solder enthusiasts for fastest time and prizes.
Rich relative. Those willing to ingratiate themselves have an opportunity to be named the sole heir of Machine Project's eccentric great aunt. Great Aunt is guaranteed to pass away during the event.
Fake IDs. We are generating fake member IDs for local museums. Never pay admission again! Accuracy of Fake IDs not guaranteed.
If you miss this rare opportunity, in this mysterious location, with drinks, music, and the sorts of experiences only Machine Project can provide, you'll regret it, painfully, and for ever.
Benefactor tickets are $250, member tickets are $75 and general admission tickets are $100. Tickets are limited, purchase today to avoid the bitter disappointment we were alluding to earlier.
Proceeds from this First Annual once-a-year event will enable Machine Project to continue welcoming any and all to our free public events the rest of the year.
---
To purchase your ticket, please click on one of the payment buttons below. Tickets can also be purchased at Coco's Variety Store starting in October.
---
BENEFACTOR TICKET:
$250 – includes private reception before the event, with access to additional special activities
---
MEMBER TICKET:
$75 – special discounted per-ticket rate, only available to current Machine Project Members! Membership begins at only $6 month. If you're not a member, or need to renew your membership, please click here: http://www.m.loc/engine/membership
---
GENERAL ADMISSION TICKET:
$100 – per person
---