Wednesday, May 20, 2009
Machine Project Deforestation Squad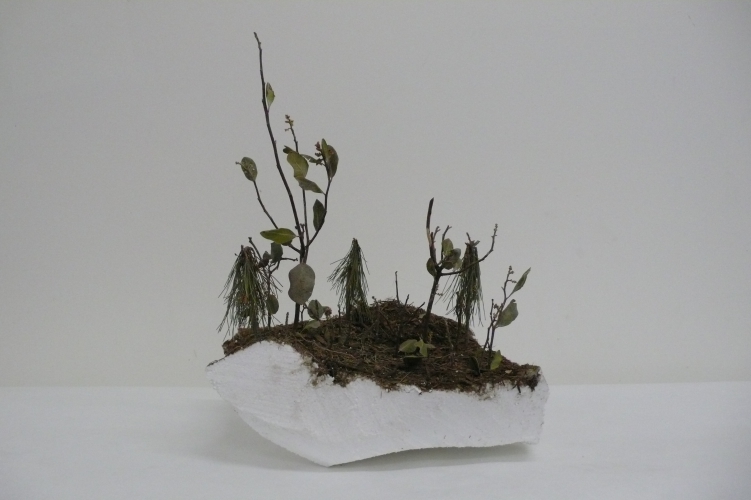 The Machine Project Deforestation Squad (Liz Glynn and Nate Page) is recycling the Forest
Remember when we turned Machine Project into a forest? That was awesome. Well, it turns out a lot of our fake forest was made with fake stuff, which would make us sad to throw away. So the Deforestation Squad is now going to recycle that stuff by turning it into whatever you want. Cactus planters? Yes. Camouflage speaker boxes, grass skirts, foam beach shoes? Yes. Office furniture? Sure.
We will make anything you want, to spec, to the best of our ability. We will make a sincere effort to make something functional, if that's one of the specifications. In return you must agree to provide a home for, and have space to accommodate, said object.
Please send requests of no more than 100 words to lizglynn@machineproject.com
Please be patient, as we are working with foam, mulch, and a storage unit full of pokey branches. Turnaround time is about two weeks. All objects are free, provided that you are willing to pick them up. Donations to Machine Project are welcome, but not necessary. Our goal is to recycle all the leftovers into your house/car/yard.
List of Materials:
– a variety of large and small styrofoam pieces 48 x 48 x 12″. these can be cut to scale
– approximately twenty tufts of dead grass
– mulch, enough to cover a small front yard
– enough sand (in bags) to fill up the back of Michele's Scion
– a handful of fake silk leaves
– real rocks, of varying size. not boulders. just rocks.
– houseplants and ferns at varying degrees of deadness
– tree branches
– two juniper-ish trees, probably dead
– several swaths of astroturf
– a few miscellaneous pieces of plywood
We want to use ALL of the leftover materials.
Space is limited – we are only making 25 things. Whatever it is will be accompanied by some kind of official paperwork confirming its green forest* origins.
We would like to gather photos of the objects in their final homes for the show at the Ben Maltz Gallery. If you are willing, we might ask to display your thing in the Ben Maltz Gallery at Otis for a week in June.
Free. What else do you want?
Update:
Come to the opening reception to see these fine pieces being featured in
Symposium: Untitled: Variations in Design Practice
Bolksy Gallery @ Otis College
Saturday, June 27
6 – 8pm
Here are a few of the things we have made by request!

Tree stump lamp

Bookends for a baby's room

Small astroturf purse

Miniature forest, made of recycled forest