As a way to consecrate our March 2011 activities at Machine Project, we offer a simple closing celebration this Friday.
From 7 to 8pm we will host an open, free, silent zazen sitting meditation on nothingness. Feel free to come early for meditation guidance if you are new to meditation.
At 8pm, Erlkönig (featuring Kim Thompson) will break us out of the zen zone by performing a music & dance suite prepared especially for this event. Following their performance, I will lead a group chant ("Om Mani Padme Hum") with the dual intention of sealing all the activities that have taken place during Skylike Notdoings as being for the benefit of all beings everywhere, and to cultivate loving-kindness and compassion in each of us. The sense that the needs and comfort of "the other" are actually, genuinely more important than those of "the self" seems to be radical reverse logic in modern American culture. The purpose of the chant will be to instill that understanding in us, directing us toward a higher "Self" which we all belong to.
This is also the last chance to view the wonderful group art show featuring the works of Kate Murray, Alpha Lubicz, Angelica Sarkisyan, Owleyes "James" Weigel, Grace Kelly Rivera, Ariana Papademetropolous, Cave Daze, and Daniel Brummel.
This closing event is part of Skylike Notdoings, a Machine Project residency by artist Daniel Brummel.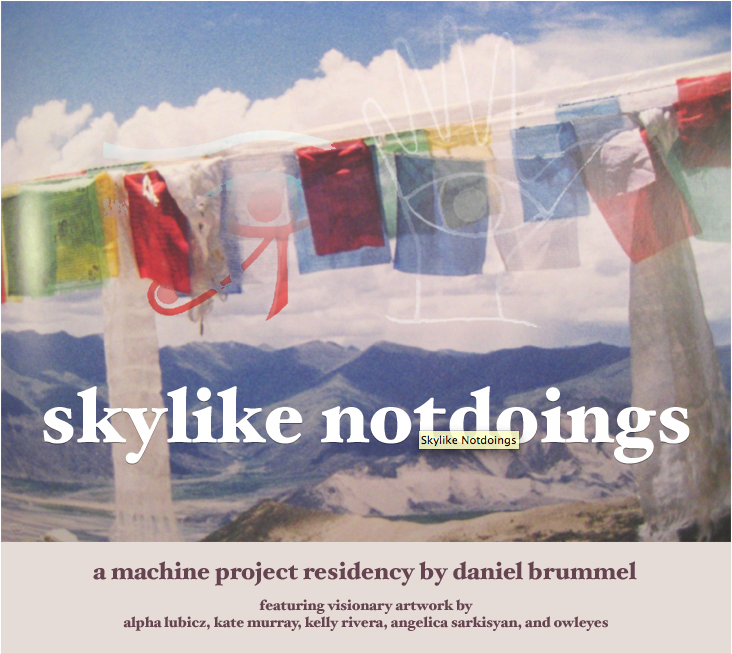 These programs are made possible in part by a grant from the James Irvine Foundation.
These programs are made possible in part by a grant from the City of Los Angeles, Department of Cultural Affairs.