Sunday, November 13th, 2011
10 – 3pm
This workshop is NOT taking place at Machine Project.
This workshop is instead at Keystone Art Space, address below.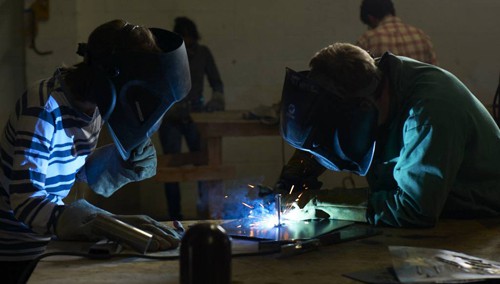 Members – $135 (all materials and MIG welder rental included, with take-home final project)
Non-members – $160 (all materials and MIG welder rental included, with take-home final project)
---
SOLD OUT!
---
Become a Machine Project Member and receive a discounted rate on all classes!
---
In this five-hour class, we will cover the basics of welding using MIG welders, to have you safely and effectively ready to start your very own furniture, bicycle chopper, or top fuel dragster project. We will be emphasizing skills and techniques that will make welding more accessible to those without extensive workshops, toolsets, or experience. During the class we will cover safety, metal procurement and selection, welding technique, metal bandsaws, and finishing/rust prevention techniques. We will then apply all the new skills to make a twelve-inch pillow that we will inflate and destroy.
Requirements: Comfortable using power tools and not squeamish with loud noises or sparks. Participants must wear long sleeve cotton shirts and cotton pants/jeans without holes. Pants must cover the tops of your shoes. Please also wear leather or canvas shoes (zero nylon/synthetic materials on the shoes—vans, work boots, cowboy boots—all good). Please also bring sunscreen and safety glasses if you have them. Participants must be 16 or older.
Workshop instructor Matt Jones is a sculptor and works as a scenic carpenter and welder building sets and props for theater, film, and art. More information (including advanced classes) is here: http://www.moltenmetalworks.net
Directions:
Keystone Art Studios, 1755 Glendale Blvd, 90026 (though the entrance is around the corner at approximately 2225 Aaron St. Enter through the black gate. You can either park on the street or in the lot uphill from the aforementioned gate).
---

Refund policy:
Please note, all class fees include a non-refundable enrollment deposit of $25 that will be deducted from your refund if you sign up for, then drop, a class. So, for example, if you sign up for Machine Sewing 101 and pay the $155 class fee, but then remember that you have trapeze school final exams that conflict with the Sewing class and shouldn't have signed up after all, we will refund you $130 of your tuition payment.
Gift certificate purchase:
If you have a Machine Project gift certificate you'd like to redeem for a class, please email us at machine@machineproject.com and let us know.