Monday, April 14, 2014
Machine this Week: April 15th – 20th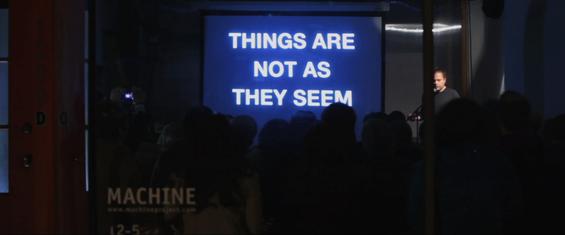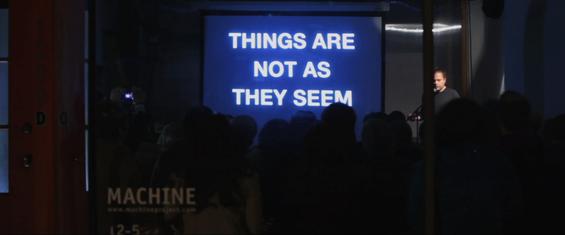 Tuesday, April 15th 2014 at 1pm
Storyteller Sandy Simona performs original Russian-Jewish biographical short stories inspired by her first generation immigration experience: love, loss, liberation and curiosity.
Wednesday, April 16th – Saturday, April 27th
Friend of Machine Reid Ulrich has curated a variety of installations, performances and workshops in our little room, visible from our front windows. Keep an eye out for a workshop exploring induced emotional states through laughter yoga and assorted eye irritants, a human directional (#HD02) trapped in the MPPSfP, a teach-in by Zahastra Morningstar, and autobiographical scenes rehearsed and revised by real live actors.
Thursday, April 17th from 7-9pm
A screening of experimental videos from Machine Project at the Glassell School of Art, located at 5101 Montrose Boulevard, Houston, TX.
Friday, April 18th from 6-9pm
A retrospective of the screen prints and performance documentation we've been doing at Machine Project for the last 10 years. This event is held at The Brandon, 1709 Westheimer Rd., Houston, TX.
Saturday, April 19th from 5-7pm
Show opening for a collection of over 50 ink and color pencil drawings created by Mark Allen in the last year and a half. Event located at Front Gallery, 1412 Bonnie Brae St., Houston, TX.