Wednesday, November 13, 2013
Machine Project's Greatest Hits DVD
Thirteen films produced by Machine Project with appearances by (but not limited to): pizza, babies, psychics, trapdoors, an opera for dogs, plants on vacation, Cliff Hengst, an igloo, a Marlene Dietrich tableau vivant, music for parking garages, amplified tea kettles, three distributes big-box store employees, some interesting new directions in drag make up, and simultaneous aerobics and butter making.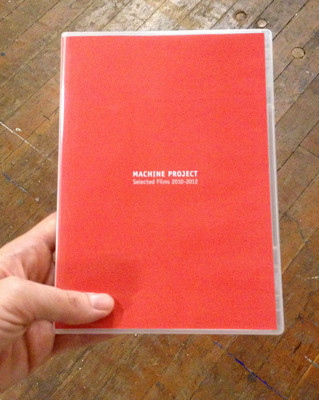 REVIEWS
An 8-year old sat through your entire DVD and had the occasional observation:
Is that the Bronx?
Didn't we go to that science museum?
I learned that from the Indians!
Is he ok!?
Is this real or fake?
It's too LOUD!
Weird! My friend spells his name A-l-a-n, not A-l-l-e-n.
And… how much longer is this?
Overall judgement: "It was good."
-GIGI LAMA, AGE 8
Doug Harvey in Artillery Magazine:
"Machine's latest project is essentially a video zine documenting a representative sampling of typical MP happenings from 2010–12. These range from an opera starring dogs to a guy singing "I Left My Heart in San Francisco" through a megaphone while climbing a hill in San Francisco; from a relational aesthetics museum residency for houseplants to a drag tableaux-vivant reenactment of scenes from the Marlene Dietrich western Destry Rides Again; from the perverse harnessing of the kinetics of an aerobics workout to churn butter to a workshop on how to escape from the trunk of a car "so that the next time you're kidnapped it doesn't have to ruin the rest of your day." Click Here to read more.