Tuesday, August 14, 2007
Bernie Lubell and Jamfest 07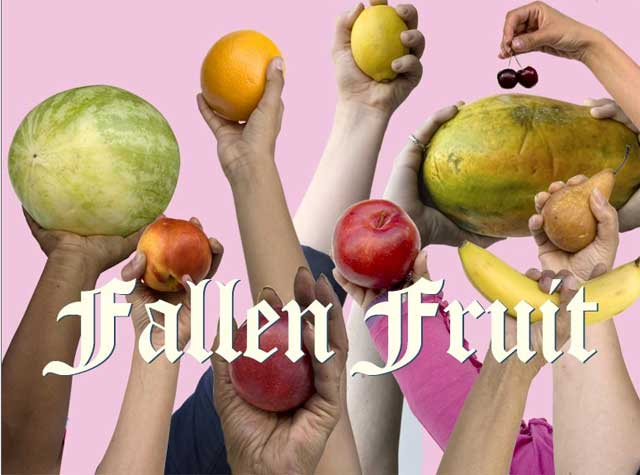 Bernie Lubell Artist Talk
8pm Thursday August 16th
Free
Artist Bernie Lubell makes giant mechanical installations out of wood which are both crazy neat and neatly crazy. He'll be passing through Los Angeles in August to participate in a Humana Ex Machina: Kinetic Commentaries on the Nature of Being at Cal State Fullerton and has graciously agreed to come discuss his room-sized interactive heart simulation, "Etiology of Innocence" on Thursday, August 16th. Mr Lubell's interactive installations have evolved from his studies in both psychology and engineering, and include a stone age digital computer, a rainstorm of chaos and nostalgia, a phone booth-confessional network, a mechanism to investigate intimacy, and room sized simulations of the brain and breathing.
/build/engine/2007/07/25/etiology-of-innocence-lecture/
——————————————————————————————
Fallen Fruit – Public Fruit Jam 2007
12pm-3pm Sunday Aug 19
Free
The Fallen Fruit collective will conduct a Public Jam, in which they collaborate with the citizens of Los Angeles in a communal jam-making session. We ask that you bring along any of your home-grown or public fruit (see fallenfruit.org) and any clean, empty glass jars you have. At the end everyone will leave with a jar of communal jam. If enough people bring surplus, even the empty handed will leave with jam. Vats of fun for all!
The kinds of jam we make will improvise on the fruit that people provide. The fruit can be fresh or frozen. Fallen fruit will bring public fruit. We are looking for radical and experimental jams as well, like basil gauva or lemon pepper jelly. We'll discuss the basics of jam and jelly making, pectin and bindings, as well as the communal power of shared fruit and the liberation of public fruit.
We did this last summer and it was fun! And delicious! And sticky!
/build/engine/2007/07/31/jam-jam-jam/