Thursday, June 21, 2007
A Midsummer Night's Machinima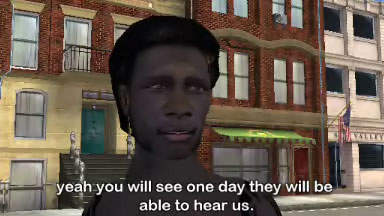 presented by STEVEN SCHKOLNE
Friday July 20, 2007
8pm
FREE!
Machinima is what we call it when someone sits down and decides to make a film, but without a set or characters, or a budget. Machinima is made by repurposing a videogame to tell a story, tell a joke, make an adventure, or make a point. Limited by these generic cinematic elements, most machinima are extremely basic. However, throughout the decade-long history of the form, innovators have developed experimental ways to use games, creating content that could not be realized with traditional techniques. On this nite we will be showing a range of short films, the best and worst that this emerging cultural form has to offer.
– from its origins in the late 90s with Diary of a Camper
– to its heyday at the turn of the millenium as fanart extravaganza (Militia, Red vs Blue, etc)
– and then also some recent extensions of the machinima concept
The selection of short films includes work by The Rangers, The Family God, Koulamata, McCann/Exopolis, Manetas, Ke Jiang, Max Winston, C. Hyperdyne Miller, Z-Studios, Summertech, sMull, Hicks, busi, Stern & Hutchins, and Decadent Pictures.
Some of the machinimists will attend and we will have discussion afterwards.