Monday, January 7, 2008
24 Hour Roman Reconstruction Project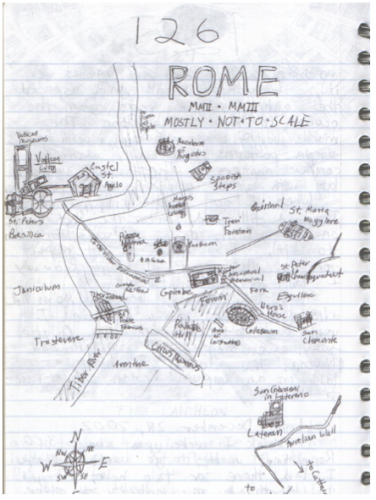 (or, Building Rome in a Day)
A project by Liz Glynn
Featuring a coalition of participants including Professor Judson Emerick, My Barbarian, and many more
January 19, 2008, 12:00am – 11:59pm
In our most ambitious hosting of a marathon historical reconstruction in miniature ever, we're rebuilding Rome in a day (specifically, Saturday January 19th) with the 24-Hour Roman Reconstruction Project.
The 24-Hour Roman Reconstruction Project traces the built evolution of the ancient capitol from 753 B.C. to A.D. 410. Working with salvaged building supplies and an archive of reference material, participants (a.k.a. you!) from a variety of backgrounds will recreate the major monuments and public buildings in historic order.
The project begins on Friday at midnight with the thatched hut of Romulus and ends twenty-four hours later in the sacking of Rome by the Visigoths. In the meantime, the Roman Forum will be built over an old Etruscan cemetery, and the Colosseum will be erected on the grounds of Nero's Golden House. Parts of the city are destroyed by fire or invasion, and yet the capitol continues to develop through reconstruction, renovation, and new buiding projects. When the empire is driven toward expansion,
the able-bodied workforce marches off to battle, or in this case, Greco-Roman wrestling.
Ultimately, the immortal Roman skyline proves mutable when ideology shifts, and marble is reconstituted into up- dated expression of power made concrete. The 24-Hour Roman Reconstruction Project presents the city as a space of dynamic change rather than static monumentality. Over the course of the day, the building process will reflect the trajectory of physical exertion within the empire, and the complex architectural field that resulted.
Highlights include a guided tour of the ruins led by Professor Judson Emerick of Pomona College, and LA-based performers My Barbarian as the Visigoths. Free classes on basic construction techniques will be offered throughout the day.
Liz Glynn is currently seeking collaborators to participate in this project. All skill levels and backgrounds are welcome and encouraged to join. To sign up, please email RebuildRome@gmail.com
A link to the rough schedule for the rebuilding of Rome can be found here.
Performance made possible by the genererous support of the Center for Integrated Media at CalArts.