Friday, May 9, 2008
Basic Crochet + Amigurumi workshop with Cheryl Cambras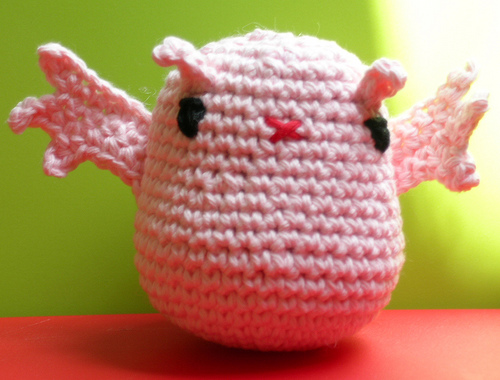 Day One: Instruction
Saturday June 7th, 11am – 3pm (with a lunch break)
Day Two: Office Hours, Show-n-tell + Tea Party
Sunday June 8th, 12pm – 2pm
Class full!
Here at Machine Project we're interested in the intersections between Art, Technology, and — oh man did you see that puppy?!
Because we are endlessly distractable by anything absurdly cute, we found it hard to say no when Cheryl Cambras offered to teach a workshop on amigurumi — the Japanese art of knitting or crocheting small stuffed animals and anthropomorphic creatures.
Sign up for our weekend amigurumi class and learn to make the very scary bat below.