Friday, March 21, 2008
An Evening of Tabla Performances: in Memory of Uttam Chakraborty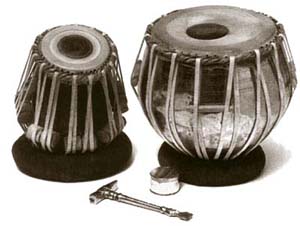 Saturday April 5, 2008 7pm FREE
Mesmerizing tabla performances will be the focus of this special evening dedicated to art of solo tabla. An instrument widely used in an accompaniment context, tabla itself is based on a richly evolved solo tradition. The art of solo tabla takes the listener on a journey through fixed compositions and improvised explorations of themes. Featured tabla artists include: Tukluda Chaudhuri, Suman Laha, TJ Troy, Rob Elston, John Wash and Robin Sukhadia. Mike Robbins will be providing Lahara on Harmonium.
Tonite's evening is dedicated to Uttam Chakraborty, an exquisite tabla player who recently passed away and was a dear friend to me and the tabla community. Donations for his family are greatly appreciated. We are accepting donations through PayPal, all funds raised will be wired to Uttamda's surviving wife and child, in Sonarpur, West Bengal, India. Funds will be used to support his family through this difficult time.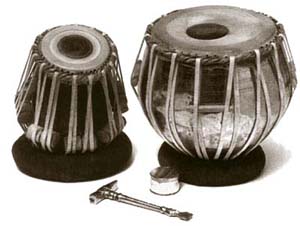 About the Performers
T.J. Troy
T.J. Troy combines an eclectic knowledge of percussion from around the world with his innate musicality to create a distinct and powerful voice in the world of contemporary percussion. Be it as a member of many high caliber ensembles, a soloist or with the numerous artists he collaborates with, T.J. is quickly becoming a true phenomenon in the Los Angeles music community. Known for his high-energy performance and broad range of disciplines, T.J. performs in a number of ensembles, including MESTO, the Elvis Schoenberg Orchestra Surreal, Tabla Rasa, Freshly Squeezed, and Just Strings, an ensemble specializing in the music of Harry Partch.
T.J. received his Bachelor of Music degree in Percussion Performance from the University of Michigan, and his Master of Fine Arts degree, specializing in Percussion, from the California Institute of the Arts. His principle instructors have been Michael Udow, Julie Spencer, David Johnson, John Bergamo, Randy Gloss, and he continues his study of North Indian tabla with Pandit Swapan Chaudhuri. Currently stationed in Los Angeles, T.J. has performed extensively throughout the United States, and maintains a rigorous performance schedule throughout the year.
Debashish Chaudhuri
Debasish Chaudhuri is one of the most promising and acclaimed tabla players from Kolkata, India and is currently based in Los Angeles, USA. He began learning Tabla (Indian hand percussion) from the age of five from late Pandit Nanku Maharaj of Benaras and subsequently from late Pandit Kanai Dutta of the Farukkabad gharana. For more than thirty years, Debasish has been under the noble guidance of his guru and uncle The World-Renowned Tabla Maestro Pandit Swapan Chaudhuri of the Lucknow Gharana. He is a graded All India Radio artist and has a diploma in Tabla – "Sangeet Pravakar". Debasish has performed in many concerts in India and in the United States, including tabla solos, percussion ensembles and accompanied with countless instrumentalists and vocalists including Dr. Omnakutty (vocal), Ajoy Pohankar (vocal), K. Sekhar (tavil), Ustad Aashish Khan (sarod), Alam Khan (sarod), Ganesh Kumar (ganjira), Late Pandit V.G. Jog (violin), Kartick Seshadri (sitar), Pandit Jasraj (vocal), and Pandit Swapan Chaudhuri (tabla).
Robin Sukhadia
Recently completing a Master in Fine Arts at the California Institute of the Arts, Robin has been studying tabla (classical south Asian drums) under Pandit Swapan Chaudhuri at CalArts and the Ali Akbar College of Music in San Rafael, California for the past six years. His special focus on the musical traditions and rhythms of south Asia informs his approach to musical arrangement and composition on a wide range of concert, film and album productions. For the past 5 years, Robin has travelled internationally on behalf of Project Ahimsa, an organization committed to empowering impoverished youth through music education. More information available at www.astralaudio.com/robin.

Rob Elston
Rob Elston is a multi-percussionist whose focus includes rudimental percussion, and hand drumming/ethnic percussion styles from around the world. He also composes, arranges, and instructs on a myriad of percussion topics. Elston started his career marching in drum and bugle corps in 2001. He has been on the percussion staff of Southwind Drum and Bugle Corps since aging out in 2004. While marching drum corps Rob earned his B.M. in music performance from Eastern Illinois University in orchestral percussion. During his time at EIU he developed an intense interest in tabla and after graduating he relocated to Los Angeles to puruse his studies.Once in L.A., Elston attended the California Institute of the Arts where he earned an MFA in multi-focus percussion. Rob's studies included tabla, kanjira, pandeiro, riq, frame drum, daf, tonbak, and timbales to name a few. While learning the tradiitional role of these instruments, as well as a modern approach, Elston's focus has been finding commonalities between them. By doing this he is able to create music that blends the styles and techniques of each instrument.

Suman Laha
A well known north Indian classical slide guitarist, Suman Saha's first exposure to the musical world came from his grand uncle late Shri Nandu Mallick (who was a good friend of Pt. Ravi Shankar and Utsad Ali Akbar Khan and whose instruments created some of the best music of the century in the hands of Pt. Rabi Shankar, Ustad Ali Akbar Khan and Smt. Annapurna Devi.) Suman has studied in the Senia tradition from prominent masters including Pt. Shyamal Chattapadhyay and Ustad Aashish Khan Sahib.
Mike Robbins

An MFA graduate of the Multi Focus Percussion program at CalArts, Mike Robbins leads a wide range of percussion projects through out Los Angeles and the United States. He currently serves as Artistic Director of the Steve Riech 18 Squared Ensemble, a large ensemble dedicated to performing works by Steve Reich. He also performs with the crazy awesome BoorBaar Trio and teaches African Percussion to high school students throughout Los Angeles. Mike will be providing Lahara Accompaniment tonite on Harmonium.
About Uttam Chakraborty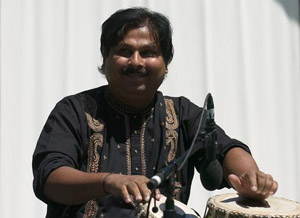 Uttam Chakraborty brought great joy and exuberance to his exceptional tabla performances. A senior disciple of Pandit Swapan Chaudhuri, Uttam's clarity, dexterity and execution of traditional compositions made him one of the more promising young tabla players emerging on the world circuit. He passed away in December 2007 at the age of 39, leaving behind a wife, child and legions of inspired students, friends and fans. We honor Uttam's energy and dedication to the art of tabla tonite.
Donations for his family are greatly appreciated. We are accepting donations through PayPal, all funds raised will be wired to Uttamda's surviving wife and child, in Sonarpur, West Bengal, India. Funds will be used to support his family through this difficult time.