Wednesday, March 19, 2008
Evening of Devotional Indian Music @ Machine Project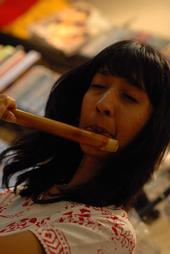 Saturday March 22, 2008
Devotional Music Concert – 7pm FREE
Sound, Spirit, and Service…all three will be highlighted in Saturday's evening of devotional Indian music at Machine Project. Special guests include Sheela Bringi (vocal and bansuri), Clinton Patterson (trumpet and Rhodes), Carter Wallace (Upright Bass), Rajen Sukhadia (vocals and harmonium), Saroj Sukhadia (manjira), Jake Charkey (cello) and Robin Sukhadia (tabla).
Included in the evening will be a discussion on the connection of sound and service, facilitated by Be the Cause and Robin Sukhadia
About the Artists:

Sheela Bringi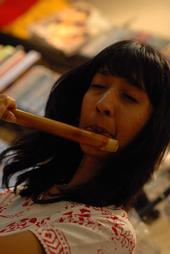 Sheela has been playing the North Indian Classical Bansuri, or the bamboo flute from India, for the past ten years and is currently blessed to be studying under the guidance of master flautist G.S. Sachdev from India. Sheela received her undergraduate degree from Mills College in Oakland in 2006, where she played with the Contemporary Performance Ensemble under Fred Frith, and worked with guest artists including Cecil Taylor, Terry Riley, and Meredith Monk. Sheela recently relocated from Oakland to Valencia, CA, and has begun her M.F.A. studies in World Music (with an emphasis in North Indian Music) at the California Institute of the Arts (CalArts) in Valencia. At CalArts, Sheela is simultaneously deepening her studies of Indian music with Maestros Aashish Khan and Swapan Chaudhuri, and exploring the intersections of Indian musical traditions with those of Jazz and Contemporary Music. She has recently formed the quartet 'Riyaaz', with fellow CalArts musicians to explore this territory, with electric guitar, upright bass, percussion, and Sheela on the Bansuri flute, vocals and the harmonium. In all her music, Sheela holds a deep reverence to her family and ancestors in South India and the musical and spiritual teachers that she has been blessed to study under. "Real music is not for wealth, not for honours or even the joys of the mind… but as a path for realisation and salvation." — Ali Akbar Khan
Be the Cause is a community of individuals that create enriching opportunities of service. In the process, we benefit the community at large and change our own lives as well. The entire organization is run virtually with no office space and entirely through the efforts of volunteers. Everyone gives freely of their own time.
The organization started in early 2002 with a few simple questions: "What is our purpose here?", "How can we change the world?", "Can one person really make a difference?". Although the answers still continue to elude us, the questions themselves have become more meaningful. This journey has somehow led us to believe that we can change the world, but only by making examples of our own lives.
We organize regular community service projects, an annual Walk for Hope, an annual visit to a developing country, and many other projects.