Thursday, July 3, 2008
Ghillie Suits Saturday, A Practical Demonstration Sunday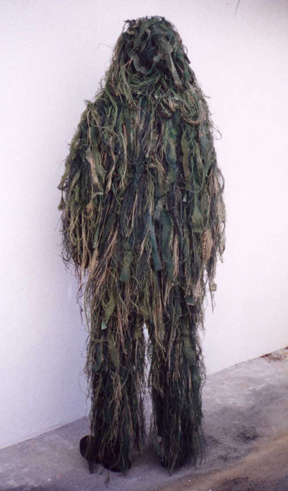 Our week of concealment concludes this Saturday with two events curated by Hanna Rose Shell, Luke Fischbeck and Sarah Anderson.
Saturday July 5th from 2-5pm we are having a Ghillie Suit building workshop. Ghillie suits are a type of camouflage clothing designed to resemble heavy foliage. In our "How Not to Be Seen" Ghillie Suit Construction workshop, students will build their own ghillie suits at Machine Project. Materials will be provided, though if you already have foliage you'd like to work with, please let us know! Space is limited to 12 students and we expect this to fill quickly, so register now at the link below to avoid disappointment. Members $45 : Non-members $50.
http://www.m.loc/engine/2008/06/17/hownottobeseen/
Saturday July 5th from 5pm until nighttime we present Camouflage Kinesthetics. In this collaborative performance event, we will talk and think critically about self-concealment, move our bodies and fashion our forms so as to maximize possibilities for environmental immersion – all in relation to real or imagined video surveillance devices. Students from that afternoon's ghillie suit construction workshop are invited to stay and use their new suits during this performance. This event is free.
http://www.m.loc/engine/2008/06/17/hownottobeseen/

———————-
Then on Sunday, July 6th at 6pm we need your help to record a stuntman jump from our 2nd story window!
"A Practical Demonstration" is an exercise in suspended orbits, suspended disbelief and circular group formations. This two part project by Jon Rubin consists of a circle of local amateur videographers documenting a stuntman leaping from Machine Project's 2nd story window and another circle of international participants documenting the sun for 24 hours as the earth spins in its daily orbit.
Please bring your friends and video cameras and join us for the first part this Sunday evening. If you have a miniDV camcorder (or even if you don't, we have a few you can borrow) and would like to participate, email us at machine@machineproject.com for details.
http://www.m.loc/engine/2008/05/29/jumper/