Saturday, July 19, 2008
GLOW Festival @ the Santa Monica Pier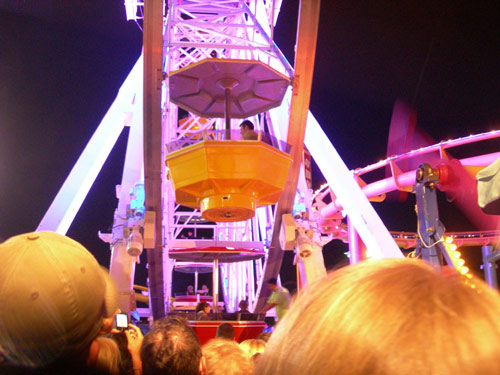 GLOW is a dusk-to-dawn arts festival taking place in Santa Monica (primarily in the beach front areas) that starts on the evening of July 19th and ends at dawn the next morning. An overview of the entire festival can be found at http://www.glowsantamonica.org. Machine Project will be presenting the following pieces:
PROJECT: FERRIS WHEEL ORCHESTRA
Daniel Corral has composed three melodies to be performed by a live orchestra from the baskets of the Santa Monica Pier's Ferris Wheel. Join us at dusk, midnight, and dawn for the complete score as night turns into day.
PROJECT: POETRY BOAT
Poets Joshua Beckman, Noelle Kocot, and Anthony McCann will be out to sea on our Poetry Boat from dusk til dawn, reading poems to you long distance and one-on-one via rotary dial cellphone and binoculars.
PROJECT: GLASS HOUSE
Artists Kamau Patton and Suzy Poling are bringing a live musical video projection performance that will be presented from inside a greenhouse on the beach using tape loops, theremins and improvised sound devices.
PROJECT: PIRATE LULLABIES
Centered around a large artificial bonfire installation on the south side of the pier, the public is invited to listen/nap/moonbathe on beach blankets while a rotating crew of over 30 musicians perform traditional sea shanties and their own maritime ballads of love, loss, and longing throughout the night.