Friday, March 21, 2008
Hands On'Semble Performance / Demonstration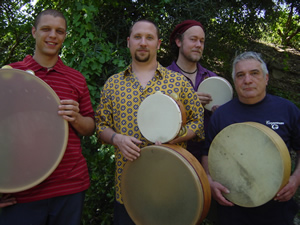 TABLACENTRIC is honored to present a special performance by Hands On'Semble. Tonite's interactive performance will give audience members insight into how this innovative and imaginative group integrates tabla and south Indian rhythmic ideas into their music.
Wednesday March 26, 2008 – 7PM FREE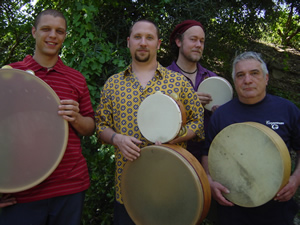 Hands On'Semble is a contemporary percussion ensemble devoted to the art of hand drumming. Founded in 1997 by renowned percussion vanguard John Bergamo, along with Randy Gloss, Andrew Grueschow, and Austin Wrinkle, the group has developed a repertoire of original compositions blending rhythmic concepts, forms, and techniques from North and South India, the Middle East, West Africa, Indonesia, South America, western chamber music, and jazz. Hands On'Semble has performed and lectured throughout the United States, South America, Europe, and Asia at many of the world's premier percussion and world music festivals, music schools and conservatories.
Hands On'Semble has collaborated in performance and recordings with a diverse array of highly esteemed percussion artists from around the world such as Swapan Chaudhuri, Poovalur Sriji, Adam Rudolph, Houman Pourmehdi, Brad Dutz, Abbos Kosimov, Glen Velez, Jamey Haddad, Steve Shehan, Mark Nauseef, Ed Mann, Carlos Stasi, Guello, and Pete Lockett.
Hands On'Semble has released four CDs to date: Hands On'Semble (1998) with Swapan Chaudhuri and Poovalur Sriji; Shradhanjali (2001) with Ed Mann; Three (2004) with Swapan Chaudhuri, Brad Dutz, Houman Pourmehdi, Adam Rudolph, and Poovalur Sriji; and HAND'STAN (2006) with Abbos Kosimov, Swapan Chaudhuri, Brad Dutz, Houman Pourmehdi, and Adam Rudolph. Percussionists and critics worldwide have praised their recorded work as being some of the most important and interesting of it's kind.
_________________________________________________
"Masterful" (Modern Drummer)
"John Bergamo, Austin Wrinkle, Randy Gloss, and Andrew Grueschow succeeded in presenting a CD clearly ranking among the most interesting percussion CD's of the last ten years." (Percussion Creativ, Germany)
" …The Hands On'Semble always creates music with excellent energy and interesting colors and textures. The music is never so esoteric as to be elitist or incomprehensible, it always grooves. As great as the music is, it is an excellent resource for listeners to be exposed to and learn about percussion traditions from around the world." (Percussive Notes)
"This just might be the best percussion recording ever made. The drumming is of such a high quality that this CD is on my short list of the CDs I can recommend to any drummer or percussionist. It is one of those rare CDs that is wonderful to listen to, and also can be played over and over in order to learn new rhythms and compositional forms… Every drummer should own this CD." (Percussionmusic.com)