Thursday, November 6, 2008
Wanted: Speed Metal Guitarist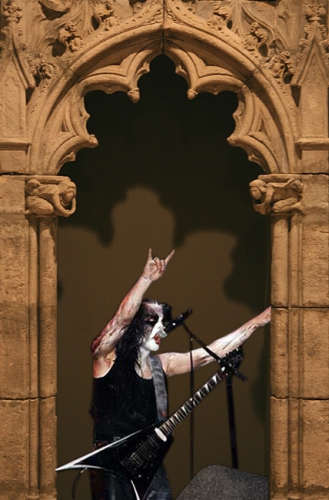 Machine Project is looking for the ultimate black/speed/grind/doom metal guitarist. Must be able to play riffs along the lines of Cradle of Filth, Gorgoroth, Children of Bodom, Celtic Frost, Slayer, Napalm Death. Must be able to play beyond fast. Must be able to sound insane. Must have own guitar and amp.
The chosen guitarist will perform 1 minute of speed metal, every hour on the hour from noon to 8pm (8 performances/8 minutes total), beneath a remotely located replica of a gothic arch during Machine Project's show at LACMA on November 15th. Pays $100 for the day.
Email us a sample at machine@machineproject.com. Video footage is preferred, but we'll also take a picture and mp3. Auditions are on Saturday at Machine Project at the following times:
Saturday, November 8th
12pm – 1pm
7pm-8pm
Machine Project
1200-D North Alvarado Street
Los Angeles, CA 90026
Long hair encouraged, wizardry is mandatory.
Please call or email with any questions — machine@machineproject.com, 213.483.8761