Friday, March 27, 2009
The Forest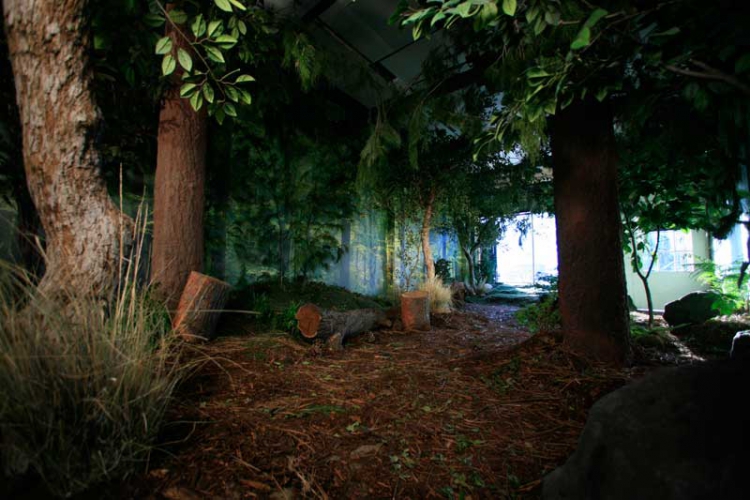 Opening Reception: Friday March 27, 2009 at 8pm.
an installation by Christy McCaffrey and Sara Newey

This exhibit will be installed from Friday 3/27/09 until Friday 4/24/09.
Open Saturdays and Sundays 12-5 or by appointment.
The following woodland themed lectures, readings and performances will take place in Machine Project throughout the month, staged inside the forest (some details still to come):
4/4 – Field recording workshop with Clay Chaplin. Details and registration here.
4/5 – Double feature vampire movies in the Forest. 8pm. Seating is limited, please RSVP here.
4/10 – 8pm and 10pm Dead Author readings (co-production with 826LA), and midnight ghost stories
4/11 – 8pm Moonlit poetry reading with Anthony McCann
4/12 – 8pm Bigfoot lecture
4/17 – 8pm Christine Wertheim reading and performance by Acoustic Force 300
4/18 – 3pm music to nap by with tehn, 8pm Jason Brown lecture about elves, and a midnight music show with Jackson Fledermaus
4/19 – 11am pancake breakfast, 5pm bird song identification tour, 8pm reading by Amar Ravva and musical performance by Heather Lockie, Shawn Lockie, and Laura Steenberge
4/23 – 8pm Joshua Beckman reading (we'll be adding an RSVP for a second show at 10pm soon)
Please note, because of reduced capacity in the gallery while the Forest is installed, we'll be limiting attendance to the events above — please RSVP via this link: rsvp
If an event you want to attend is full, please keep checking back in case other RSVPs get cancelled or more room opens. You can also come to Machine the night of the event and sign up on a waitlist at the door.
Sara, Christy, and the entire Machine Project staff would like to thank all the volunteer forest builders. Thank you volunteers! This project was funded in part by an ARC grant from the Durfee Foundation. Thank you Durfee Foundation!
Lighting design by Bill Ballou. Sound Design by Emily Cummins.