For a period of five weeks seven weeks Josh Beckman's Sea Nymph will be host to a whole series of nautical-themed events, performances, lectures, and workshops, as well as an opera by and for dogs.
Inside the capsized hull of the ship there will also be a crystal cave. For a full list of ever-updating, feverishly programmed maritime events, see the full schedule below.
You can watch the shipwreck on our mast-cam. The mast-cam is streaming on u-stream so you might get subjected to an advertisement as it loads. Whatever, free streaming.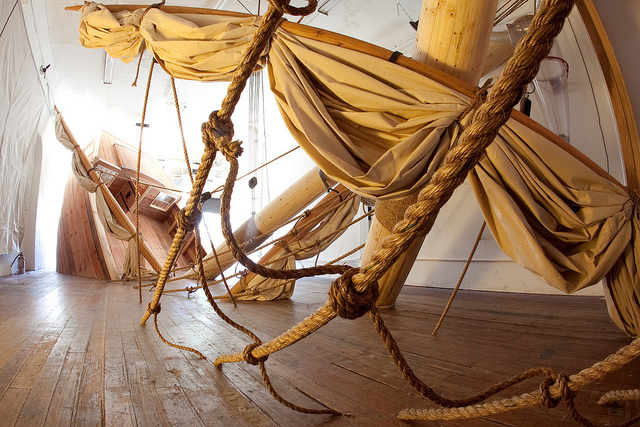 Schedule:
Sept 5th, 5-10pm / Opening, with music
Sept 9th, 8pm / When Ghost Ships Sailed the Skies! a Lecture by Jason Brown, with a glass music performance by j.frede and friends
Sept 11th + 12th, 10am-2pm / Jellyfish Crochet Class
Sept 13th, 7-9pm / Knot-Tying Workshop (fee and registration required)
Sept 16th, 8pm / Creston Lea reads, Daniel Brummel sings
Sept 17th, 8pm / How to Not Get Lost at Sea, a Lecture by Chris Spurgeon
Sept 18th, 8pm / Music from Tommy Santee Klaws and Christian Cummings
Sept 19th, 2pm / Moby Dick Puppet Show by Nicole Antebi and Linda Wei
Sept 19th, 8pm  / Lecture on Shipwrecks by Jim Wilke
Sept 20th, 8pm / Lecture on Sailing the Seas of Computer History: Pirates! from Jason Scott.
Sept 23rd, 8pm / Lost in the Sea of the Heart: Songs of Romantic Loss and Longing from Henry Wolfe and Emily Lacy, with sea music by Machine's GLOW performers
Sept 24th, 8pm / Lecture on SS Normandie by Colin Dickey, Music by Rats
Sept 26th, TBA / Joshua Beckman offers long form poetry readings for one person at a time
Sept 28th, 8pm / Joshua Beckman and Emily Lacy present poetry and music related to the Rime of the Ancient Mariner
Oct 2nd, 8pm / Corey Fogel (beloved percussionist), with Diana Wagman (who was once lost at sea).
Oct 8th, 8pm / Jessica Catron leads an epic sonic closing of the Sea Nymph's voyage through one Echo Park storefront
Throughout the course of the Shipwreck, other topics covered may include: sailors, rope ladders, dog opera, crystal caves, knot-tying, salt, stove-making, and falling through ice.
This project was specifically funded by the generous support of the Harpo Foundation and the Pasadena Art Alliance.
Machine Project also gratefully acknowledges additional support from the following organizations:
The Andy Warhol Foundation for the Visual Arts
The Annenberg Foundation
The Durfee Foundation
The Getty Foundation Multicultural Undergraduate Internship Program
The Good Works Foundation
The James Irvine Foundation
The Los Angeles County Arts Commission
The Los Angeles Department of Cultural Affairs
The Peter Norton Family Foundation
Thank you!