Saturday, May 22, 2010
Andrew McIntosh and the Rational Melodies at the HAMMER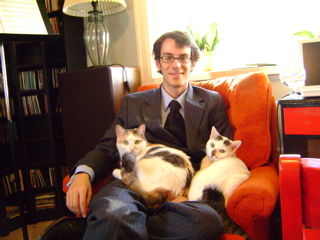 at the Hammer Museum
Saturday, May 22, 2010
1:00-4:00pm
in the Little William Theater and Hammer Courtyard


The afternoon will feature two complete performances of minimalist composer Tom Johnson's Rational Melodies: the first at 1:00 pm in the Little William Theater, and the second at 3:00 pm in various outdoor locations around the Hammer museum. The Rational Melodies, a collection of 21 pattern-oriented energetic miniatures, are one of Johnson's most important works. Written in 1982, they are scored for any instrument or group of instruments, in any octave or transposition, although this performance will be on solo violin.
The composer has this to say in the preface to his score: "Rationality, or more precisely, deductive logic, has seldom been the controlling factor in musical composition. Composers are usually more interested in inspiration, intuition, feelings, self-expression. Lately, however, there has been a tendency for composers to give up individual control over every note, and rely on factors outside themselves. Pieces have been controlled by the wind, by chance, by the idiosyncrasies of tape recorders, or by unpredictable variations in electronic circuitry, for example, and it seems to me that composing by rigorous adherence to logical premises involves a similar way of thinking."
---
Violinist, violist, and composer Andrew McIntosh focuses primarily on performing and expanding the repertoire of compelling and experimental music. McIntosh is a member of the Formalist Quartet, which is also dedicated to adventurous and relevant repertoire and regularly performs around the country. He holds degrees in violin and composition from the University of Nevada, Reno and the California Institute of the Arts. As a chamber musician he has played in festivals, concerts, art spaces, and recordings around the US and Europe with the Formalist Quartet, Tholl/McIntosh duo, Quatuor Bozzini, Rohan de Saram, and many others. As a solo artist he has appeared in venues such as Stanford University, REDCAT, the Wulf, and KPFK Pacifica Radio, as well as with the New Century Players, Santa Cecilia Orchestra, Reno Philharmonic, and inauthentica. He also recently was the viola soloist in the US premiere of Gèrard Grisey's Les Espaces Acoustiques, for which performance the LA Times said he "played […] with commanding beauty". A native of rural Northern Nevada, McIntosh is currently based in Los Angeles where he is principal viola of the Santa Cecilia Orchestra and enjoys a large and frequently unexpected variety of performing, recording, teaching, and composing activities.