Tuesday, April 13, 2010
"monochrom #26-34: Ye Olde Self-Referentiality" Book Release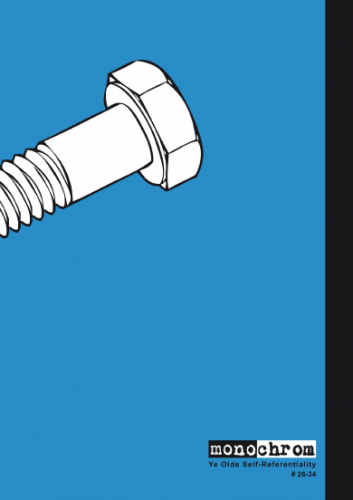 This Friday, April 16th, 2010 at 8pm please join us for a book release event with our favorite peculiar visiting Austrians, monochrom. This event will feature readings on at least some of the following topics:
…screws, astronauts, cannibalism, roundworms, an (anti)history of rave, Casablanca, potpourri, H.P. Lovecraft of course, witchcraft and lesbianism, Mozart as public relations hype, unicorns and maidens, pornographic coding, Neon Bible and its hidden agenda, whales, Ronald McDonald slapping a guy in the face, and Columbia.
But wait! There's more. These readings will be performed not just by any random yahoo, but by these storied/lovable/masterful yahoos in particular — John Wilcock (co-founder of the Village Voice, and occult expert), Sean Bonner (this guy), Jason Brown (Machine consigliere/puppetmaster) and other special guest stars.
For the full list and more info, click here: /build/engine/events/2010/04/16/monochrom-book-release-event