Monday, July 1, 2013
Machine this Weekend: July 6th – 7th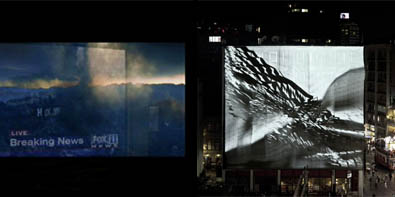 WORKSHOP : 3D Video Mapping
Saturday, July 6th and Sunday, July 7th from 11am – 4pm
This workshop is an introduction to the concepts and techniques to 3D projection mapping, or more commonly known as 3D Video Mapping. In the first part of the workshop, instructor Refik Anadol will explain what mapping is all about with some historical precedent of mapping and students will then be introduced to the various processes to carry out a 3D Architectural Video Mapping. The second part of the workshop will focus on how to map sculptures with Madmapper, followed by creating simple animations using the built in animation tool in MadMapper. The workshop will end with a short presentation of works done by the participants, followed by a short sharing session of questions related to what they have experienced in the workshop.
Registration is $105 for members / $120 for non-members. Visit the following link for more information about the class, and to sign up: /build/engine/archive/classwork/2013/07/06/3d-video-mapping-wrokshop/
Sunday, July 7th at 6pm and 7pm
at The Santa Monica Screening Room // 1526 Fourteenth Street, Santa Monica, CA 90404

A history of the sites of disaster in several Los Angeles-set movies, "Lake Overturn" explores the project of fan fiction and the idea of a "personal soundtrack" as it plays out over the course of several days. In a live performance and accompanying video, a location scout for films (Claire Titelman), ventures into sites for a film to be made, contradicting and confirming any sense of place, past, present or future.

Click one of the links below to purchase tickets:
6:15 performance: http://www.eventbrite.com/event/7176008635
7:15 performance: http://www.eventbrite.com/event/7249329941

This event is part of Machine Project's Field Guide to L.A. Architecture.