Friday, November 18, 2011
Storefront Plaza
By Nate Page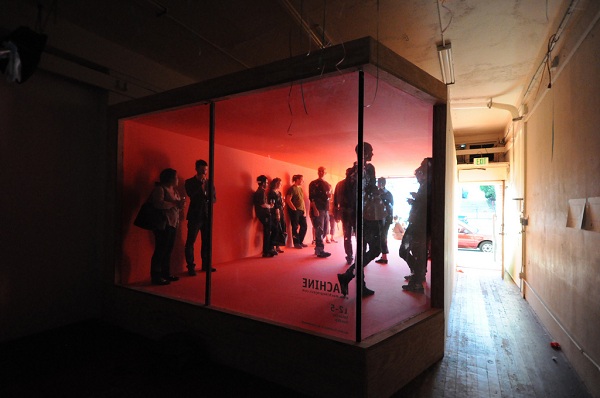 Opening Nov 19th and running through February of 2012.
Storefront Plaza by Nate Page relocates the windows of Machine Project and reinstalls them twenty feet back into the main gallery space. To achieve this the exterior walls of the building stretch deep into Machine's storefront along a constructed support structure which re-assigns much of the interior space as exterior space. As a result, the public will be able to access what was formerly Machine Project's front room now transformed as a large sidewalk alcove; the storefront pulled back like a slingshot from the street.
For the past several years, Nate Page has been exploring the public's psychological relationship to designed environments, and has participated in several of Machine's largest museum projects. Storefront Plaza continues this investigation through the manipulation of the architectural boundary that marks one's participation in either a public or private space. The transformation calls attention to the symbolic line that one crosses into these places by extending the three dimensional space that represents it. The work considers our experiential relationship with the ubiquitous storefront as well as the implementation of Machine Project's public and community programming by physically intervening in both.
Continuously updated schedule of installation events:
Sunday, Nov. 13th / 3pm: Ribbon Cutting Ceremony.
Sunday, Nov. 20th / 2pm: Emily Lacy Performs in the Plaza.
Sunday, Nov. 20th / 4pm: Symbolic Opening for Storefront Plaza.
Sunday, Nov. 27th / 11am – 3pm: TnT Explosive Advice: The 10-minute takeover!
Thursday, Dec. 1st / 8 & 9pm: Untitled, 2010.
Saturday, Dec. 3rd / 3 – 7pm: Experimental Sound Practices in the Plaza.
Sunday, Dec. 4th / 1 – 5pm: Alvarado Remix.
Thursday, Dec. 8th / 8pm: storefront + scope, circuits [intervention, investigation]
Friday, Dec. 9th / 1 – 4pm: Book Bloc Workshop & People's Microphone Caroling
Saturday, Dec. 10th / 1 – 5pm: Surface Mount Soldering Workshop and Collaborative Composition
Sunday, Dec. 11th / 8pm: Fol Chen
Thursday, Dec. 15th / 2 – 5pm: Drop-In Phrenology
Friday, Dec. 16th / 8pm: ING
Saturday, Dec. 17th / 8pm: Drive-Thru-Fry-BQ
Sunday, Dec. 18th / 2pm: Boundary Pageant #1
Sunday, Dec. 18th / 8pm: Ambient Force 3000 – Storefront Eigenmodes
Sunday, Dec. 25th / 7pm: L'ile Heureuse
Thursday, Jan. 5th / 1 – 4pm: 21st Century Bach
Saturday, Jan. 7th / 1 -5pm: Juliana Snapper and Miller Puckette
Sunday, Jan. 8th / 1 -3pm: Voice of Your Desire
Thursday, Jan. 12th / 8pm: Get Lucky Diner
Saturday, Jan. 14th / 8pm: Untitled (remodel)
Sunday, Jan. 15th / 10am – 4pm: P.I.E. (Personal Immersive Environments)
Wednesday, Jan. 18th / 1 – 5pm: Everted Acoustsics, or, Busking the Sea Cucumber
Saturday, Jan. 21st / 8pm: Paranoid Machines: Los Angeles, 1946 – 1981
Thursday, Jan. 26th / 8pm: Future Gestalt
Friday, Jan. 27th / 8pm: Memory and Data Storage: The Ampex Corporation
Saturday, Jan. 28th / 8pm: Shuffle Stagger Fail
Sunday, Jan. 29th / 8pm: Bandwagon! (a combine)
Monday, Jan. 30th / 1pm: Vivarium
Saturday, Feb. 11th & Sunday Feb. 12th: D3: Object Divestment Services 1980 SPECIAL EDITION
Saturday, Feb. 18th / 11am – 4pm: Infantcore
Sunday, Feb. 26th / 12 – 4pm: Solar Gadget Workshop
Friday, March 2 / 8pm: B A L L O O O O O N S (a floating sound installation)
This project is made possible through the support of Christopher and Elizabeth Allen, Tim Bartlett, Ben Benjamin, David Bunn, Stuart and Bunny Charlemont, Coco's Variety Store, Fol Chen, Suzanne Geiss, Emily Joyce, Tod Kurt and Carlyn Maw, Thomas Lawson and Susan Morgan, Leonard Lin, Amarnath Ravva and Amina Cain, Joanna Rudnick and Jordan Gimbel, and several really generous people named anonymous.
Matching funds and project support provided by the La County Art's Cultivate/Create Initiative, funded by the National Endowment for the Arts and the Los Angeles County Quality & Productivity Commission